ARDCHATTAN COMMUNITY COUNCIL
Meeting to be held on Thursday 12th January 2017 at 7.30pm
North Connel Hall
PUBLIC MEETING AGENDA
1. Apologies
2. Declarations of interest
3. Minutes of previous meeting held Campbell Memorial Hall on 10th November 2016 previously circulated, to be approved
4. Police report
5. Matters arising not on agenda
6. Tralee Link Path update
7. Proposed play park, WH Housing Association
8. Waste collection & recycling centre
9. Viewpoint at Dun na Mara
10. Treasurer's report
11. Secretary's report
12. Health matters
13. Planning: Glen Creran Quarry; Scottish Sea Farms MRC Barcaldine
14. AOB
15. Next meeting – 23rd February, Barcaldine PS
January 11, 2017
Posted in: Community Council
No Comments
12th January North Connel
23rd Feb Barcaldine
6th April Ardchattan
18th May AGM, Benderloch.
January 11, 2017
Posted in: Community Council
No Comments
ARDCHATTAN COMMUNITY COUNCIL
Minutes of meeting held in Campbell Memorial Hall 10th November 2016 at 7.30pm Read the rest of this post »
January 11, 2017
Posted in: Community Council
No Comments
From Mairi Stones of Change is Always Possible, Benderloch
Free Health and Happiness Talks
: My journey to find recovery from ME/CFS has taken me along many fascinating paths. Not only have I now added EFT and Matrix Reimprinting to my list of qualifications and experience, I have learned a whole new way of looking at and treating what ails us. 
Through these monthly talks I hope to encourage, support and inspire you to make positive changes in your own lives so you too can improve your health and happiness. Held in Rockfield School, Oban.
Films That Transform
: the last few years have also introduced me to many interesting and fascinating non-mainstream films which I believe are life 
changing and can help you transform the way you see yourself and the world.
 I want to share these with others, partly to spread the word but also as a way to meet and spend time with others who are interested in these subjects. Held in Victory Hall, Benderloch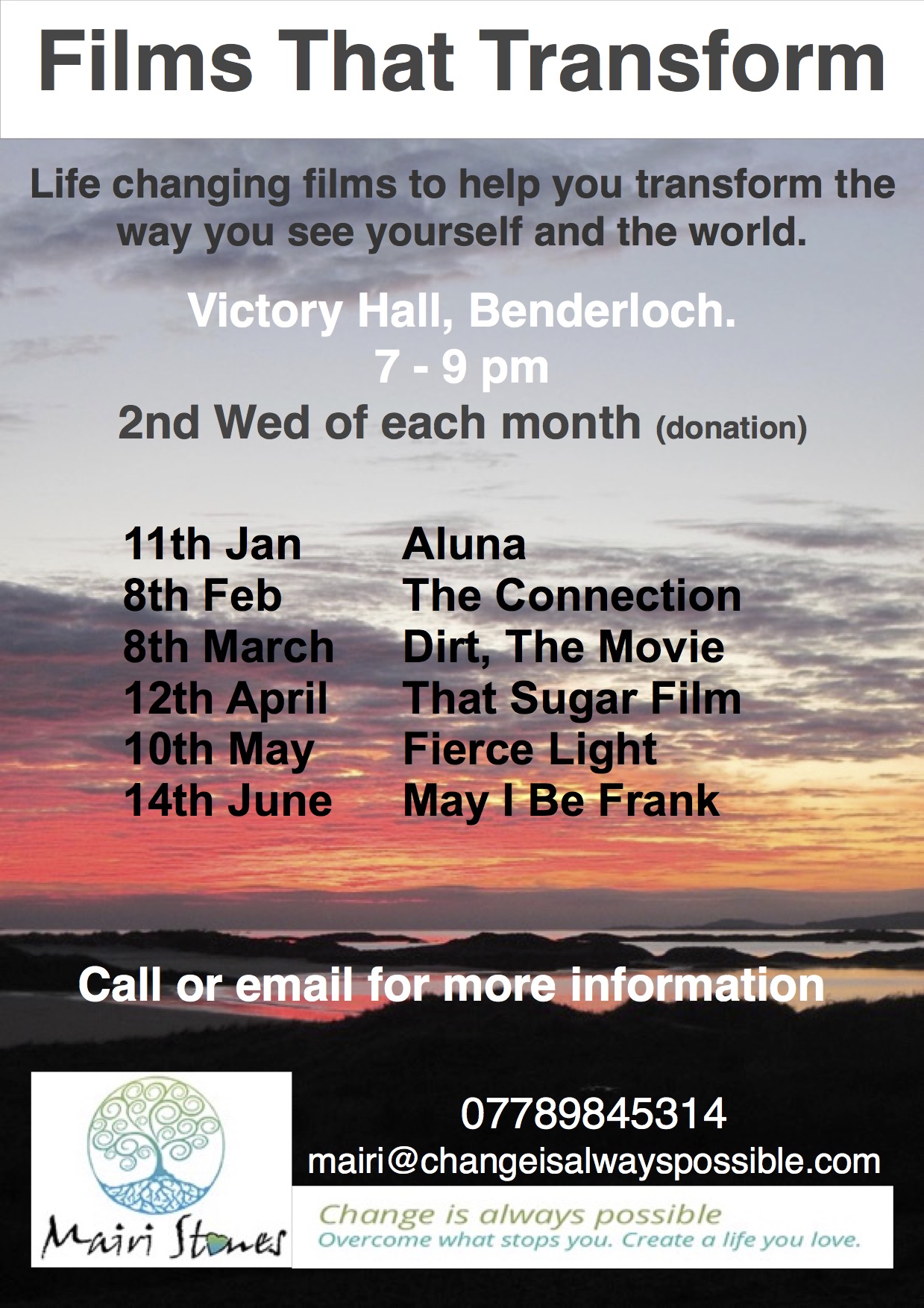 January 10, 2017
Posted in: Benderloch, Community, health
No Comments
The 'ArtRoots fund' is now live and accepting applications!
This is a fund for grants of between £100 – £1,500 for community groups to improve sections of the NCN with aesthetic improvements such as sculptures, landscaping, benches, murals and so on.
It is open to applications until 10th February 2017 with all funding to be spent this financial year.
You are more than welcome to spread the word amongst any community groups you think this might be ideal for!
An article is on the way for the website, with Twitter and Facebook posts shortly after.
Any questions then give me a shout!
Many thanks
Cosmo
Cosmo Blake | Project Officer – Mileposts, Artwork & Interpretation
Sustrans Scotland, Rosebery House, 9 Haymarket Terrace, EDINBURGH, EH12 5EZ
Office: 0131 346 9794
Direct Line: 0131 346 3017
Mobile: 07920 456 376
Save
January 9, 2017
Posted in: transport
No Comments
Do you fancy being part of some very informal but gently constructive
fibre
fun
for a few folk this year ..
First wee gathering on this Friday  but otherwise would be either weekends, or week days, depending on when folk are free to gather or at a time that suits any particular activity.
Bring whatever fibre crafty thing you are doing, or if you want to try anything others have, or someone else can bring – like a spinning wheel, spindle, inkle loom, triangle loom, knitting / crochet needles, urm – felting needles..
January 3, 2017
Posted in: Arts and Crafts
No Comments
The first Ardchattan Community Council meeting for 2017 is at 7.30pm Thursday 12th January at the North Connel Hall.
All are welcome.
January 3, 2017
Posted in: Community
No Comments
Barcaldine Primary school invite you to join them this Thursday at 6.30pm in St Modans Church, Benderloch for a very special production of Snow White & The Christmas Disaster!
All Welcome
December 12, 2016
Posted in: Community
No Comments
4TH GENERATION TERM CONTRACT FOR MANAGEMENT AND MAINTENANCE OF THE
SCOTTISH TRUNK ROAD NETWORK – NORTH WEST UNIT
A828 NORTH OF BENDERLOCH – CONSULTATION UPDATE
We regret to inform you that due to an unforeseen quarry breakdown which has impacted on our
resurfacing programme, the works on the A828 North of Benderloch due to commence on Friday 2nd
December have now been delayed to Monday 5th December.
Location plan of Benderloch road works
The works are still to be constructed during the hours of 7am and 7pm each day under a 10mph convoy
traffic management system, with no works planned for the weekend.
Some minor delays are unfortunately inevitable but efforts will be made to keep these to a minimum.
BEAR Scotland and Transport Scotland wish to thank the local community and the travelling public in
advance for their patience during these essential works.
Should you require further information, or wish to discuss these proposals, please do not hesitate to
contact Craig Kerr, Graduate Design Engineer, by e-mail NWConsultation@bearscotland.co.uk
December 1, 2016
Posted in: Community Council, transport
No Comments
Save
Save
December 1, 2016
Posted in: Arts and Crafts
No Comments