An update on the A828 Lochnell school road issue for the community from Lochnell Parent Council
Myself, along with Shirley Matheson, Bill Dundas and DJ Barr met with representatives from Transport Scotland and BEAR.
They came with options detailed in the attached pdf files (scanned copies rather than the originals, so hopefully you can see them ok.)
They believe that these measures will reduce the speed of traffic coming into the village and also make the school more visible, by "urbanising" the street markings.
They also have made a commitment to monitor speeds again once implemented to ensure it helps. This is a positive move forward. Not a crossing, but that was to be expected.
They asked us to consider which of these options we would like.
We asked for all of them.
They are going to take it to a formal planning stage and then get back to the community in the Autumn, when we can hold a larger meeting.
My summary of the drawings –
— Rumble strips heading into the village from the 3/2/1 marks
— Dragon's tooth markings after this
— Then red hatching down the centre of the road – if road width allows
?– Reinforced red strips at 2 different points with speed and school markings
–Large Lochnell School sign – this can be our own design
–Yellow zig zag lines extending the whole length of school
— Yellow bus stop paint markings
–Widened crossing point with yellow bumpy /tactile edge paving
— Additional red strip near Victory hall next to flashing 20mph sign
I think this is a really positive move forward and will keep you all in the loop about the next meeting. Should the planning process all go okay, then I believe the work would be done sometime at the start of next year.
Please get in touch with comments or questions.
Beth Davies
Vice Chair Lochnell Parent Council

June 21, 2019
Posted in: Community
No Comments
Come and celebrate midsummer with this wonderful band of exuberant and highly talented musicians at The Victory Hall, Benderloch.
Seats are selling quickly so don't miss out, reply to this email for advance tickets
( at £12) or leave a message on 01631 720 247.
A night you'll enjoy and will live with you for a long time!
See you there,
Joy and Campbell
June 12, 2019
Posted in: Community
No Comments
We are so excited to have Hickman and Cassidy joining us at the end of next week.
This is a first visit to The Benderloch Palladium for these guys who have such a unique sound and are very entertaining.
We are in The Reading Room so spaces are limited.
Tickets are £12 in advance,or £14 on the door …if there's room!
Bar and doors open 7.30pm, music at 8pm. Look forward to seeing you there.
Cheers
Joy and Campbell
June 5, 2019
Posted in: Community
No Comments
Tuesday 18th BOOKENDS POP-Up 11am -6.30pm. Free event.

Hundreds of pre-loved books to read, swap, borrow or keep.
Refreshments and home baking all day. 2pm Finish What You
Started…a space to move a project along: knitting, drawing, sewing..
June 3, 2019
Posted in: Community
No Comments
Ever wondered how to earn easy money in Germany, what happens in the change-over between security guard and receptionist in a bath company or what you'll  find in your kitchen if you return home unexpectedly during the day?
Benderloch and North Connel Drama Club will give some ideas when they present three short comedies by John Finnemore in village halls between 18th and 22nd June. Red Handed, Hot Desk and English for Pony Lovers are plays from the Radio 4 series Double Acts, written by Finnemore  – who is also well known for the Radio 4 shows Cabin Pressure and John Finnemore's Souvenir Programme.
Two of the plays were award winners in the Campbeltown, Lorn and North Lorn drama festivals  earlier in the year and they are being presented with the bonus of Red Handed.
The plays are being performed in Victory Hall, Benderloch on 22nd June, 7:30pm
Tickets are £7.50 / £6 (concessions) and are available on the door or can be reserved by calling 01631 770334
June 3, 2019
Posted in: Community
No Comments
the 2019 Horticultural Show Schedule is now available from outlets around the area
and you can read it on the new show facebook page
May 21, 2019
Posted in: Community
No Comments
Our wonderful Sustrans recreational cycle, walking, riding track is now complete from Connel to Creagan bridges.
the last section has been finished and it was officially opened this week ..
Not only does this provide a great place to walk and ride on the weekends and for tourists, but it makes the perfect safe Route to School for pupils from North Connel to Barcaldine.
More on the route .. https://www.transportxtra.com/publications/local-transport-today/news/60865/national-cycle-network-upgrade-kicks-off-with-caledonia-way-project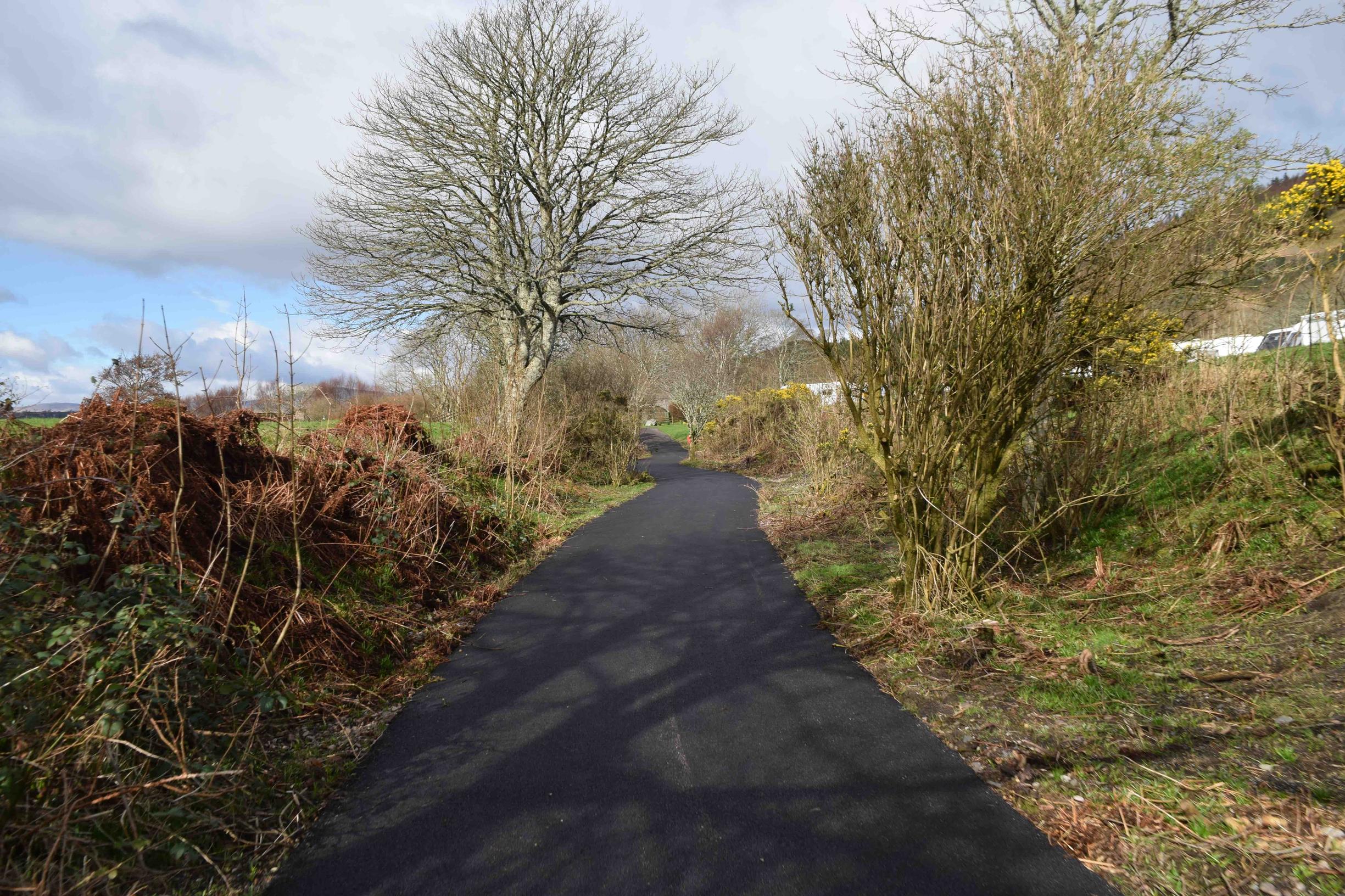 April 16, 2019
Posted in: Community
No Comments
Scottish Wildlife Trust talk by Max Bonniwell, farmer of Dalvuie and Achnacree Moss
7.30 pm SAMS Thursday 17th January 2019
All Welcome
January 12, 2019
Posted in: Community
No Comments
from the Lorn Natural History Group facebook event 
January's field trip takes us along a stretch of the Caledonia Way, aka the Sustrans Cycle Track. We'll start at Sutherland's Grove and walk in the direction of the former Sea Life Centre. We will be mainly looking at lichens and winter fungi, plus anything else that is around.
We can expect to see many fine old trees with lichens of the Lobarion community. We will certainly see our Species of the Month, Common Dog Lichen, and can look for other types of dog lichen to compare it with. We may find some Birdsnest Orchid (in its winter form), and will try to add one or two new names to our humongous cycle track plant list which stands at at least 354 (will check exact number in time for trip).
Date and time: Sat 19 Jan, 10.00 a.m.
January 10, 2019
Posted in: Community
No Comments
The Appin murder has been a popular topic of books and talks in recent times, and here is another perspective
Appin Historical Society 19 January 2019      2.30 pm   The Appin Murder – An Inside Job?: Alan MacInnes
January 8, 2019
Posted in: Community
No Comments