TODAY : Scarecrow – play for young children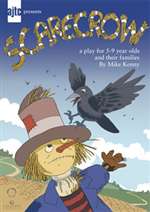 Victory Hall, Benderloch Saturday 9th April   2:30 PM until 3:45 PM
Brought to Benderloch by ACA  and the ajtc theatre group – tickets from Terry Donovan  01631 720498
A furrowed field. The end of winter. The distant cawing of crows.
A couple of farm workers turn up with a bundle of sticks and a pile of old clothes. They build a scarecrow.
This is the story of a lonely scarecrow and a bunch of noisy crows.It's about solitude and community in hard, hard times.
The scarecrow hates the crows. Well, that's what you'd expect. But every time he chases them off they just keep coming back. The crows can take or leave the scarecrow. They're too busy squabbling, eating and living their lives. All he wants is to be left alone.
We follow their relationship over a year, from their beginnings as enemies, to their conclusion as grudging friends.
April 9, 2011
Posted in: Arts and Crafts, Benderloch, Children, Community, Event